What is the National Forum?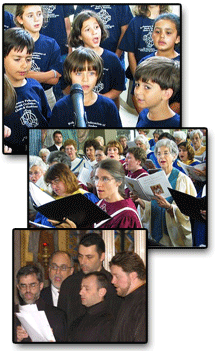 The National Forum of Greek Orthodox Church Musicians is the Archdiocesan ministry responsible for liturgical music activities and the development, support, and recognition of church musicians. Chartered in 1976 as an official auxiliary of the Greek Orthodox Archdiocese of America, the National Forum serves as the liaison among local church musicians, metropolis church music federations, and the Archdiocese. It also serves as the gathering place for church musicians to discuss issues related to liturgical music and to formulate needed responses.


The National Forum has four major areas of focus:
National Forum Facebook Feed
National Forum SoundCloud

---
+ Peter Vatsures 1942-2020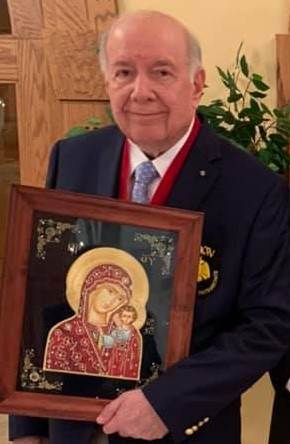 It is with profound sadness and loss that I share with you the falling asleep of our dear Peter Vatsures. It was an unexpected passing, with no readily ascertainable reasons, early this Thursday morning (May 7th), one which so many of us never expected and can hardly fathom. We have to believe God just wanted him home.
What can we say about Peter? Devout Orthodox brother, a man with strong family values and love, proud Archon, kind and caring friend, devoted church musician, willing servant. All these make his loss feel even more devastating.
Most of you knew him for his devotion to bringing you the Liturgical Guidebook each year, for 44 years in fact. He was always so grateful to Frank Desby in whose footsteps he followed in preparing the Guidebook, and he performed all the tasks involved with the utmost care and love. The thing that he loved most about this work were all the calls he would get from clergy, from directors and friends, even from church secretaries, anytime and especially as they came to the last pages of the Guidebook, needing help with ordering or having a question about some entry. Most of all, though, throughout the year, he enjoyed the many chats he had with so many of you, about your choirs, the music you were singing, how everything was going in your church music lives, how your families were doing. This was his essence.
The Church and its music were Peter's life. He was a church musician from his earliest years, serving in the Annunciation Cathedral Choir as both a singer and as their trusted liaison to the Parish Council. He led the Choir as chairman as they hosted four MEFGOX Conventions. He advised their directors, recruited new singers, greeted visitors, and was always there ready to help. He was a regular volunteer at Annunciation's Greek Festivals, setting up all the sound equipment and in general monitoring all the goings on, making sure everything was in order or safe. In addition, he was an altar boy, a GOYAN, and one of the top Greek dancers in the Annunciation's troupe.
Likewise, in MEFGOX, he was a stalwart, serving in all offices except secretary and as President in 1966-67. For the last many, many years, he was the MEFGOX Treasurer; he also handled all the stewardship donations and was an active member of the Executive Board. He was MEFGOX's cheerleader, its rock, and its wise counselor, fully dedicated, fully involved.
And at the Archdiocesan level, he was from the start, a passionate member of the National Forum of Greek Orthodox Church Musicians, traveling to Chicago and other places to meet with the founding committee that forged our national ministry in the early years of the 1970's. After the Forum received its charter from the Archdiocese during the 1976 Clergy-Laity Congress, Peter hosted the first "official" annual meeting of this new organization in Columbus. He attended every annual meeting since, chaired its Publications Committee, and just looked forward to reuniting and meeting all the other church musicians who also attended. To me, throughout my tenure as National Chairman, he was my wise counsel, stalwart supporter, prodder, and patient sounding board. Always there, always available, always caring.
Throughout all this church service and elsewhere in his life, he was truly a genuine and caring human being. Each of us is likely remembering his smiles, his upbeat persona, his love of Greek dancing and music, his sensitivity to others, his loyalty and steadfast friendship --- and you should know how he cherished all that his friendships gave back to him!
For his service in the Church, Peter was awarded the prestigious St. Romanos Medallion for Exemplary Contributions to Church Music in the Archdiocese in 1986. Then in 2012, he was given the high honor of being named Archon Kastrinsios of the Order of St. Andrew of the Ecumenical Patriarchate.
May his memory be eternal!
---
The National Forum mourns the passing of National Chariman Maria Keritsis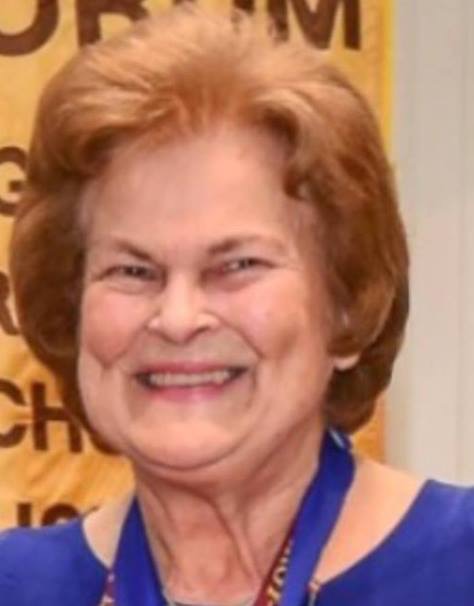 It is with the heaviest of hearts that we let you know that our National Chairman, Maria Keritsis, fell asleep in the Lord on Wednesday, March 20th.
Maria has been an exemplar Orthodox Christian, church musician, and national leader. Since her early years as a choir member and junior choir director, Maria was always active in many activities and projects of her home parish of Sts. Constantine and Helen in Richmond, its parish council, its Philoptochos, and of course, its choir. She always gave generously of her time and talents.
For her Church Music Federation in the Metropolis of New Jersey, her leadership and dedication were evident as she served as its President, originator and administrator of its scholarship program, and organizer of many concerts, conventions, and Church Music Institutes.
Maria also had deep roots in the National Forum, starting as one of the group present with Archbishop Iakovos when the founding of the National Forum was announced in 1978, and then continuing as a delegate to Annual Meetings, serving as one of its administrative heads, and finally, in 2012, being elected as National Chairman by the Coordinating Committee of representatives from all of the Metropolises. Highlights of her tenure were how she galvanized the Oloi Mazi Team to complete their work in setting the new Synod-approved English translation of the Divine Liturgy to music and her collaboration with Father Tony Vrame of the Department of Religious Education and Metropolitan Methodios to bring the new Divine Liturgy Hymnal to fruition for the parishes. She also led Forum members in revising the instructional Hymn Series to match the new translation and also with several composers and arrangers to bring new versions of choral music that also match the new translation.
For her service in church music, Maria was awarded the Athenagoras Medal for Outstanding Metropolis Service in 2001, and just last year at the Clergy-Laity Congress in Boston, the prestigious St. Romanos Medallion for Exemplary Service in Church Music at the Archdiocesan Level.
As a sister in Christ, Maria was a church musician who understood the role and centrality of sacred Orthodox music in the worship and life of our faith and who strove to continue its traditions and legacy. We knew her as devout, gracious, sweet, and generous. We will miss her leadership, her wisdom, and her friendship tremendously.
Maria's wish was that Memorial Donations be made to the Sts. Constantine and Helen Cathedral Building Fund.
May her memory be eternal!
What's New!
---
October 3, 2021 was National Church Music Sunday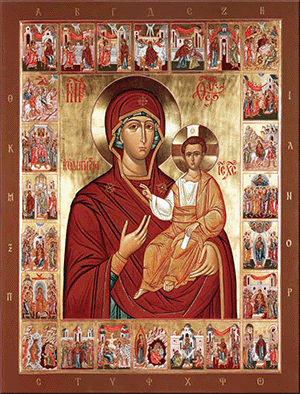 For nearly 40 years, the Greek Orthodox Archdiocese of America has designated the first Sunday of October as National Church Music Sunday! On this day we honor and celebrate the contributions of Church Musicians from throughtout the parishes of our Archdiocese.
Click here for more resources and ways in which you can honor your Church Musicians!
---
2021 Liturgical Guide Book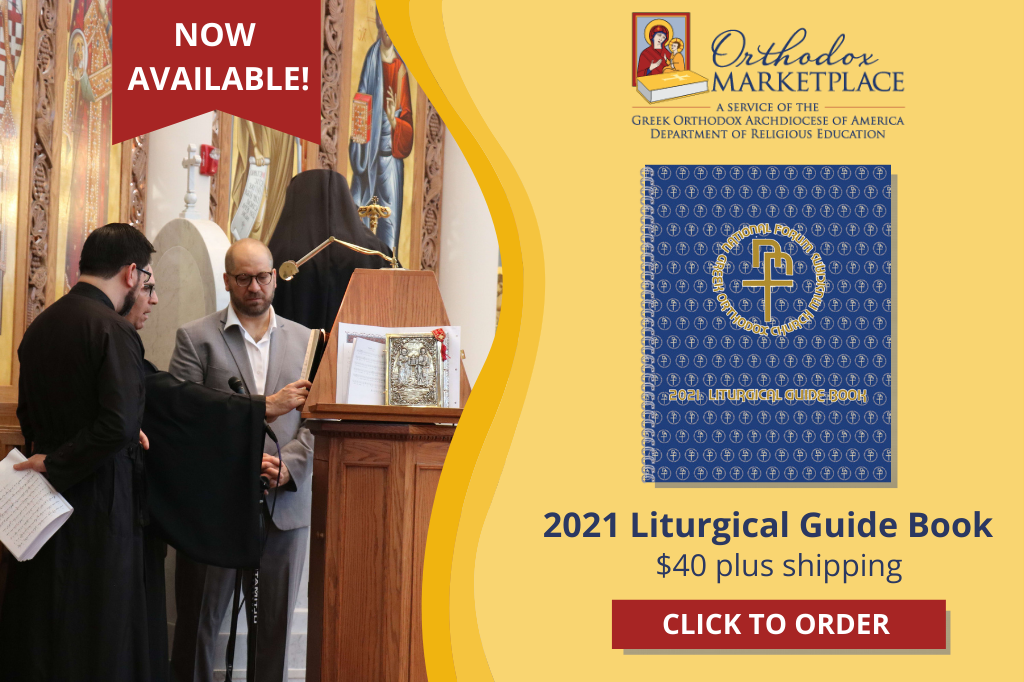 Dear Members of the National Forum's Church Music List,
The 2021 Liturgical Guide Book is available for ordering.
The cost of this year's Guide Book remains at $40. This year's edition, dedicated to its longtime editor, publisher, and coordinator †Peter Vatsures, has some new features:
Tributes to Peter, including a beautiful letter from Archbishop Elpidophoros
An additional chart outlining the service changes for a hierarchical liturgy
Charts for all four of the Saturday of the Souls services
A copy of its new position statement on the choral and chant traditions in our Archdiocese, and
Links to other liturgical resources found on the Forum's website, such as guides to special services, feast day antiphon verses, and guidelines for hierarchical liturgies, among others.
As in past years, the Guide Book also provides you with:
Charts outlining the liturgical changes and readings for all the Divine Liturgies for Sundays and major feast days
The ordinary antiphon verses
Hymn titles in English, plus their titles by function (e.g., Kontakion, Meghalinarion, etc.)
A suggested Pronunciation Guide
Information about the Modes of the Hymns, and
Planning calendars, among other resources.
There are two ways you can order the Guide Book:
ONLINE: Use the Orthodox Marketplace:

In the Search Box, add: 2021 Liturgical Guide Book, or the product number: FL607-21.
Continue on with your specific order and providing your mailing and payment information.

PHONE: Call in your order to the Department of Religious Education at 646-519-6300 or toll free 800-566-1088, M-F 9:00 am-5:00 pm EST. You will be asked for the following information:

Your name and shipping address
Your home parish, and its city/state
Your phone number and email
Your payment information

Please DO NOT email or fax your orders, as providing personal or financial information in these ways poses security risks.
We hope you find the 2021 Guide Book useful and informative.
If you have any questions, please feel free to contact either of us as below:
Vicki Pappas
2021 Liturgical Guide Book Editor
pappas@indiana.edu
812-361-9500
Nicholas Chimitris
National Forum Chairman
chimitris@comcast.net
219-741-3997
---
Hymn-Singing Resources for Young People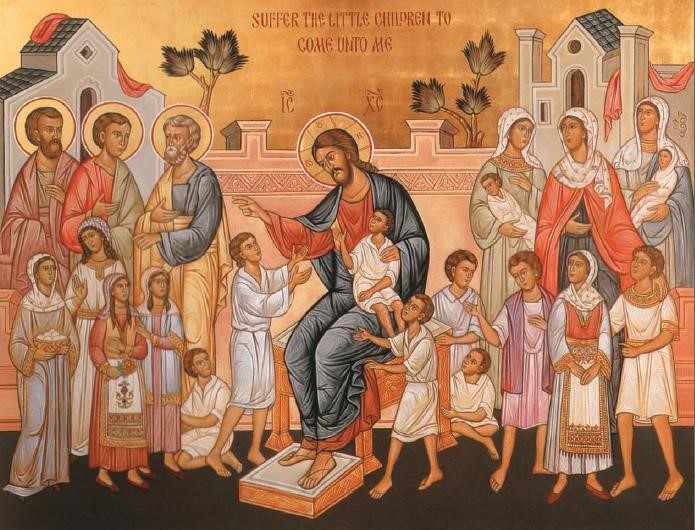 Please visit our Hymns for Kids resource page, a collection of sites which offer listening and singing experiences with Greek Orthodox hymns especially for youth. Compiled for use at home, Church School, and during youth activities by the National Forum of Greek Orthodox Church Musicians. Click here to visit the page
---
Become a Steward of the National Forum
Now is a great time to become a steward of the National Forum, or to renew your membership! Please help to support the vital mission of the National Forum in providing resources and guidance to all our Church Musicians!
---
Hierarchical Guidelines - UPDATED
The guidelines for Hierarchical visits have been updated for the first time since 2009. Please download and review this document prior to a Hierarchical Liturgy and remember to check with the senior-ranking priest and/or the Hierarch's deacon.
Click this link to download your copy
---
Archbishop Elpidophoros speaks about National Church Music Sunday!
---
Choral Settings Using the New Standard English Translation available through the National Forum
KEVIN LAWRENCE: A four-part setting of the Divine Liturgy of St. John Chrysostom that serves as a companion to the new Greek Orthodox Hymnal being distributed by the Department of Religious Education. This is the only work that uses the same melodies as the Hymnal, in Greek and English, so it is suitable for parishes that wish to have their choirs and congregations use the same melodies. The work also includes two settings of the Doxology, all festal substitutions for the second Antiphon (Soson Imas), the eight Resurrectional Apolytikia, four settings of the Trisaghion as well as its festal substitutions, six settings of the Cherubic Hymn, three settings of the Anaphora, psalms for use during Communion, Memorial Service hymns, and the Hierarchical service. Available spiral-bound for $28 or three-hole punched binder-ready for $25, plus shipping and handling. Please specify when ordering.
NICHOLAS ROUBANIS: Selections from the 5th edition of Roubanis' arrangement of the Divine Liturgy, including all the basic hymns for both regular and hierarchical Divine Liturgies, have been re-typeset and adapted for the new official English translation. The book includes both the original Roubanis Greek melodies and his melodies adapted, as needed, to fit the English words. The cost is $15 per book plus shipping and handling. It is three-hole punched binder-ready.
Both settings can be ordered through the Publications office of the National Forum by contacting Lucy Pappadakis, Publications Chairman at lucy_38@hotmail.com
---
Useful Downloads
Announcements
Latest Updates RSS

Recent Newsletters
Neumes & Notes
The Youth Music Network
The YouthMusic Connection