What is the National Forum?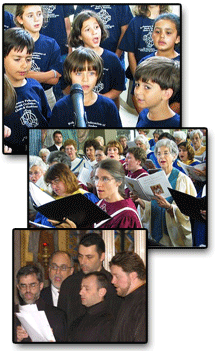 The National Forum of Greek Orthodox Church Musicians is the Archdiocesan ministry responsible for liturgical music activities and the development, support, and recognition of church musicians. Chartered in 1976 as an official auxiliary of the Greek Orthodox Archdiocese of America, the National Forum serves as the liaison among local church musicians, metropolis church music federations, and the Archdiocese. It also serves as the gathering place for church musicians to discuss issues related to liturgical music and to formulate needed responses.


The National Forum has four major areas of focus:
What's New!
---

The 2015 Liturgical Guidebook can now be ordered through the Orthodox Marketplace!
Click here for the press release and ordering instructions
Order your copy online directly from the Archdiocese's Orthodox Market Place http://www.orthodoxmarketplace.com/liturgical-music/2015-liturgical-guide-book.html
You can also order the Guidebook through the mail. 2015 Liturgical Guidebook Mail-in Order Form
---
National Church Music Sunday Resources
Click here for more information »
---
2014 National Forum Annual Meeting held in conjunction with the 42nd Biennial Clergy-Laity Congress
Philadelphia, PA - July 6-10, 2014
Chairman's Annual Report for 2014 »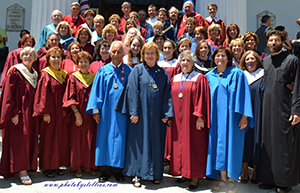 Clergy Laity 2014 Liturgy Choir
Federation presidents with National Forum Chairman Maria Keritsis in Philadelphia
---
CHRIST IS RISEN Resources
Christ Is Risen English Translation Resources and Recordings »
---
Useful Downloads

Announcements
Recent Page Updates
Home
01/08/2015 - 2015 Liturgical Guidebook Ordering Information Added »
Church Music Sunday
09/10/2014 - 2014 National Church Music Sunday Poster Added »
The National Forum
05/05/2014 - Annual Meeting Information Added »
Metropolis Church Music Federations
04/08/2014 - Updated 2014 Conference Dates and Information »
Latest Updates RSS
Recent Newsletters
Neumes & Notes
The YouthMusic Connection