What is the National Forum?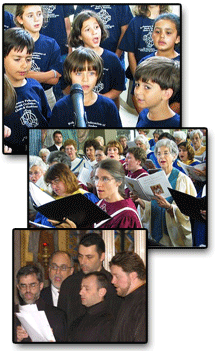 The National Forum of Greek Orthodox Church Musicians is the Archdiocesan ministry responsible for liturgical music activities and the development, support, and recognition of church musicians. Chartered in 1976 as an official auxiliary of the Greek Orthodox Archdiocese of America, the National Forum serves as the liaison among local church musicians, metropolis church music federations, and the Archdiocese. It also serves as the gathering place for church musicians to discuss issues related to liturgical music and to formulate needed responses.


The National Forum has four major areas of focus:
National Forum Facebook Feed
---
+ Constantine "Dean" Limberakis 1928-2019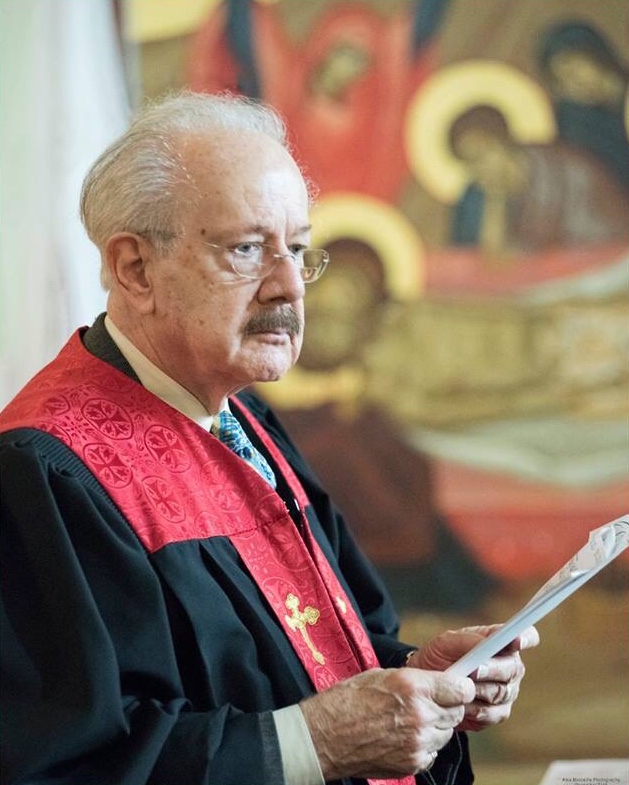 Once again, we are feeling great sadness as we experience the loss of another giant among our church musicians this year. Today we are mourning Constantine ("Dean") Limberakis who unexpectedly fell asleep in the Lord yesterday (Tuesday) morning after a short hospital stay over the weekend. He was 91 years old, still active, working, directing, driving, joking, until this past weekend.
It is difficult to think of all that Dean meant to us, there is so much – good and generous friend and family member, longtime choir director, loving teacher and mentor, consummate performer and producer, and also composer, guest director and clinician, classic and witty Bostonian --- all in all, a dedicated Orthodox Christian, the epitome of church musicianship at its best.
Dean was the longest serving choir director in our Archdiocese, serving almost 75 years at the helm of Orthodox choirs, both in Greek Orthodox and Antiochian parishes. Most recently, he served as Director of Music at the Annunciation Cathedral of Boston for the past 30 years. Dean also served as President of the Metropolis of Boston Federation of Church Musicians for 20 years and was more recently named its President Emeritus.
Dean was active in the leadership of the National Forum from the time he attended his first meeting with us during the Clergy-Laity Congress in Atlanta in 1989. Since then, he chaired the Awards Committee, responsible for the creation of the medals and medallions we still bestow on deserving church musicians, and other public relations products.
From the time he was appointed an Adjunct Professor in 1989 and then in 2008 as Director of Music for Hellenic College and Holy Cross, Dean served as the Forum's liaison to the School. While there, he became a beloved mentor to the seminarians and was key to the implementation of our Graduating Seminarian Awards. He also played a significant role during the construction and completion of the National Forum Church Music Room at the Archbishop Iakovos Library. He was a Life Member of the Forum.
Dean often served the Forum as its liturgical consultant for the massed choirs which sang at many Clergy-Laity Congresses and served as Guest Director himself several times. Most recently, he completed the first liturgical setting for choirs that used the Archdiocese's new standard English translation, which he debuted and conducted at the Nashville Clergy-Laity Congress in 2016.
For all his many good works, far too numerous to mention here, Dean was awarded the St. Romanos Medallion for Exemplary National Service in Church Music in 1992. He was also named Archon Primikirios of the Order of St. Andrew by the Archdiocese in 1997 and was the recipient of its prestigious Medals of St. Paul and St. Andrew as well as the Archbishop's Years of Service Award for Choir Directors.
Dean's funeral will be on Monday, June 17th at 10:00 am at the Annunciation Cathedral, 514 Parker Street in Boston. His Eminence Metropolitan Methodios will preside with Father Demetrios Tonias, Dean of the Cathedral, among others. Relatives and friends are kindly invited to attend.
Visiting hours will be on Sunday, June 16th at the Cathedral from 4:00 pm to 8:00 pm with a Trisaghion service. In lieu of flowers, donations in Dean's memory may be made to the Cathedral. Burial will be held in Woodlawn Cemetery, Everett, MA.
Choir members who would like to sing at Dean's funeral on Monday morning should be at the Cathedral at 9:30 am for a brief rehearsal.
Condolences may be sent to Paul Cassettari and Dean's sisters, Andra and Carrie, at his home address: 375 Broadway SPC367, Linnfield, MA 01940.
Words cannot express our sense of profound loss – we join the many friends, clergy, seminarians, faculty and staff members, choir members and chanters who are mourning him. While we know that he has joined so many others in the choirs of angels in the heavens, we also feel how deeply we will miss his presence among us.
We say, with love, to our Dean --- well done, good and faithful servant – may your memory be eternal!
The obituary can be found at https://www.faggas.com/obituary/constantine-dean-limberakis.
---
The National Forum mourns the passing of National Chariman Maria Keritsis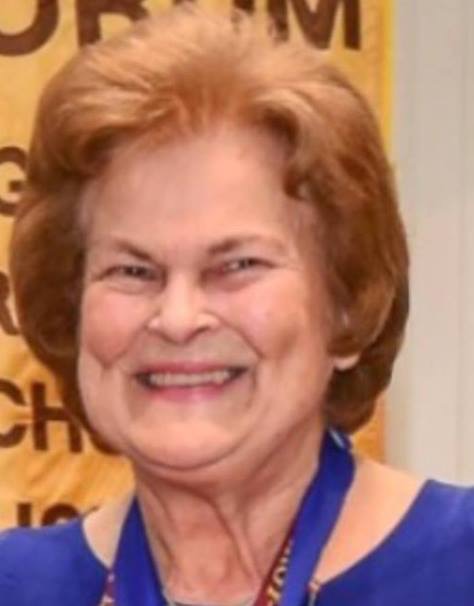 It is with the heaviest of hearts that we let you know that our National Chairman, Maria Keritsis, fell asleep in the Lord on Wednesday, March 20th.
Maria has been an exemplar Orthodox Christian, church musician, and national leader. Since her early years as a choir member and junior choir director, Maria was always active in many activities and projects of her home parish of Sts. Constantine and Helen in Richmond, its parish council, its Philoptochos, and of course, its choir. She always gave generously of her time and talents.
For her Church Music Federation in the Metropolis of New Jersey, her leadership and dedication were evident as she served as its President, originator and administrator of its scholarship program, and organizer of many concerts, conventions, and Church Music Institutes.
Maria also had deep roots in the National Forum, starting as one of the group present with Archbishop Iakovos when the founding of the National Forum was announced in 1978, and then continuing as a delegate to Annual Meetings, serving as one of its administrative heads, and finally, in 2012, being elected as National Chairman by the Coordinating Committee of representatives from all of the Metropolises. Highlights of her tenure were how she galvanized the Oloi Mazi Team to complete their work in setting the new Synod-approved English translation of the Divine Liturgy to music and her collaboration with Father Tony Vrame of the Department of Religious Education and Metropolitan Methodios to bring the new Divine Liturgy Hymnal to fruition for the parishes. She also led Forum members in revising the instructional Hymn Series to match the new translation and also with several composers and arrangers to bring new versions of choral music that also match the new translation.
For her service in church music, Maria was awarded the Athenagoras Medal for Outstanding Metropolis Service in 2001, and just last year at the Clergy-Laity Congress in Boston, the prestigious St. Romanos Medallion for Exemplary Service in Church Music at the Archdiocesan Level.
As a sister in Christ, Maria was a church musician who understood the role and centrality of sacred Orthodox music in the worship and life of our faith and who strove to continue its traditions and legacy. We knew her as devout, gracious, sweet, and generous. We will miss her leadership, her wisdom, and her friendship tremendously.
Maria's wish was that Memorial Donations be made to the Sts. Constantine and Helen Cathedral Building Fund.
May her memory be eternal!
What's New!
---
Church Music Resources for Lent, Holy Week, and Pascha
The National Forum offers many resources:
Handbook for a Holy Friday Retreat - Consider an online retreat this year!
Hymns of the Orthodox Faith instructional packet, which includes major hymns of the Liturgy, Sunday of the Cross, and Christos Anesti.
Ti Ipermacho in Greek and with the new standard English text.
These and other materials may be ordered through the National Forum's Office of Publications
---
Become a Steward of the National Forum
Now is a great time to become a steward of the National Forum, or to renew your membership! Please help to support the vital mission of the National Forum in providing resources and guidance to all our Church Musicians!
---
Hierarchical Guidelines - UPDATED
The guidelines for Hierarchical visits have been updated for the first time since 2009. Please download and review this document prior to a Hierarchical Liturgy and remember to check with the senior-ranking priest and/or the Hierarch's deacon.
Click this link to download your copy
---
2020 Liturgical Guide Book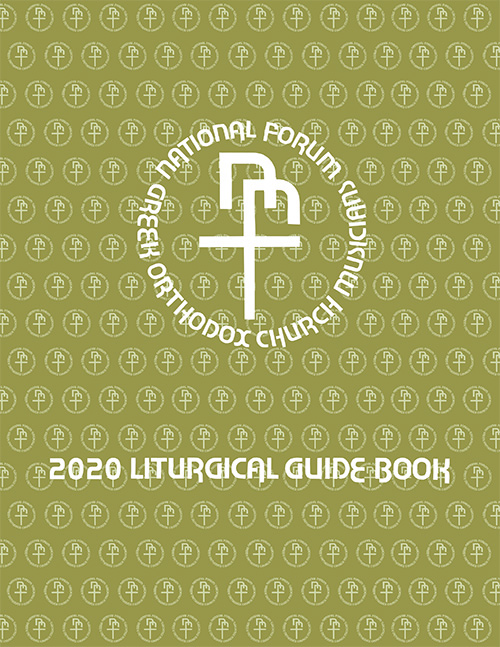 The 2020 Liturgical Guidebook is now available for ordering. The cost of the Guidebook is $40 plus shipping and handling.
In the Search Box, add: 2020 Liturgical Guidebook, or the product number: FL607-20.
Continue on with your specific order and providing your mailing and payment information.


Remember there are also 3 other ways which you can order the Liturgical Guidebook:
1) ORDER BY EMAIL: send your order to the Department of Religious Education at religioused@goarch.org. Please be sure to include the following:
Your name
The complete mailing address for delivery
Your home parish, city and state
Your email
Your phone number
Please DO NOT include your credit card number in the email
The Department will have the Guidebook(s) sent to you and will send you an invoice for payment.
2) ORDER BY FAX: send your order to the Department of Religious Education at 617-850-1489. Include all the information listed above and NO credit card number. You will receive an invoice for payment from the Department.
3) ORDER BY PHONE: Call in your order to the Department of Religious Education at 646-519-6300 or toll free 800-566-1088, M-F 9:00 am-5:00 pm EST. Be sure to provide the same information as listed above.
Should you have any questions or need assistance, feel free to contact the Liturgical Guidebook Editor: Peter Vatsures at vatspnv@hotmail.com.
---
Archbishop Elpidophoros speaks about National Church Music Sunday!
---
2020 Annual Meeting of the National Forum
The 2020 Clergy-Laity Congress in Clevelend, Ohio, originally scheduled for Sunday, June 28 through Thursday, July 2, 2020 has been postponed due to the Coronavirus crisis. The National Forum will be making an announcement soon in regards to this year's Meeting.
---
Choral Settings Using the New Standard English Translation available through the National Forum
KEVIN LAWRENCE: A four-part setting of the Divine Liturgy of St. John Chrysostom that serves as a companion to the new Greek Orthodox Hymnal being distributed by the Department of Religious Education. This is the only work that uses the same melodies as the Hymnal, in Greek and English, so it is suitable for parishes that wish to have their choirs and congregations use the same melodies. The work also includes two settings of the Doxology, all festal substitutions for the second Antiphon (Soson Imas), the eight Resurrectional Apolytikia, four settings of the Trisaghion as well as its festal substitutions, six settings of the Cherubic Hymn, three settings of the Anaphora, psalms for use during Communion, Memorial Service hymns, and the Hierarchical service. Available spiral-bound for $28 or three-hole punched binder-ready for $25, plus shipping and handling. Please specify when ordering.
NICHOLAS ROUBANIS: Selections from the 5th edition of Roubanis' arrangement of the Divine Liturgy, including all the basic hymns for both regular and hierarchical Divine Liturgies, have been re-typeset and adapted for the new official English translation. The book includes both the original Roubanis Greek melodies and his melodies adapted, as needed, to fit the English words. The cost is $15 per book plus shipping and handling. It is three-hole punched binder-ready.
Both settings can be ordered through the Publications office of the National Forum by contacting Lucy Pappadakis, Publications Chairman at lucy_38@hotmail.com
---
Youth Music Network
Click here to download the latest issue of our Youth Music Newsletter »
---
Useful Downloads
Announcements
Latest Updates RSS
Recent Newsletters
Neumes & Notes
The Youth Music Network
The YouthMusic Connection