What is the National Forum?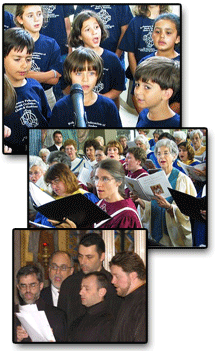 The National Forum of Greek Orthodox Church Musicians is the Archdiocesan ministry responsible for liturgical music activities and the development, support, and recognition of church musicians. Chartered in 1976 as an official auxiliary of the Greek Orthodox Archdiocese of America, the National Forum serves as the liaison among local church musicians, metropolis church music federations, and the Archdiocese. It also serves as the gathering place for church musicians to discuss issues related to liturgical music and to formulate needed responses.


The National Forum has four major areas of focus:
What's New!
---
The 2016 Annual Meeting of the National Forum will take place from Sunday, July 3 through Thursday, July 7 in Nashville, Tennessee in conjunction with the 43rd Biennial Clergy-Laity Congress!
2016 Annual Meeting Announcement and Schedule »
2016 Annual Meeting Registration Form »
2016 MEFGOX Convention Invitation »
2016 National Forum Stewardship Form »
Chairman's Annual Report for 2015 »
---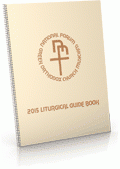 The 2016 Liturgical Guidebooks have arrived!
The National Forum has been distributing the Liturgical Guidebook through the Orthodox Marketplace. However, the Orthodox Marketplace has now become a part of the Department of Religious Education (DRE).
Because the Orthodox Marketplace is in a period of transition and the new site is not yet available for online ordering, orders for the 2016 Guidebook may be placed directly with the Department of Religious Education by following the instructions below.
The cost of the 2016 Guidebook is $35.00, which includes shipping and handling.
You can order the Guidebook by FAX, E-Mail, phone, or US Mail. The DRE can accept payment by credit cards, church PO's, or checks. DRE will send you an invoice under separate cover.
2016 LGB Ordering Information »
Download the 2016 LGB Order Form »
If you have any questions or need further assistance, feel free to contact Peter Vatsures, Guidebook Editor at 614/263-1343 or E-Mail vatspnv@hotmail.com
---
Youth Music Network
Click here to download the latest issue of our Youth Music Newsletter »
Click here to download the first issue of our Youth Music Newsletter! »
---
CHRIST IS RISEN Resources
Christ Is Risen English Translation Resources and Recordings »
---
Useful Downloads
Announcements
Recent Page Updates
Metropolis Church Music Federations
06/22/2016 - Updated 2016 Metropolis Conference Dates and Information »
Chant Resources
05/24/2016 - Byzantine Music and Liturgical Resources »
Home
05/09/2016 - Liturgical Guidebook Information added »
The National Forum
04/15/2016 - Annual Meeting Information Added »
Latest Updates RSS
Recent Newsletters
Neumes & Notes
The Youth Music Network
The YouthMusic Connection