What is the National Forum?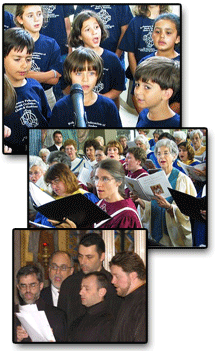 The National Forum of Greek Orthodox Church Musicians is the Archdiocesan ministry responsible for liturgical music activities and the development, support, and recognition of church musicians. Chartered in 1976 as an official auxiliary of the Greek Orthodox Archdiocese of America, the National Forum serves as the liaison among local church musicians, metropolis church music federations, and the Archdiocese. It also serves as the gathering place for church musicians to discuss issues related to liturgical music and to formulate needed responses.


The National Forum has four major areas of focus:
What's New!
---
CHRIST IS RISEN - Approved English Translation - Resources Available

Christ is Risen Hymn Cards
Place your order for 5 ½ by 8 ½ inch cards on laminated, heavy card stock. They include a full color icon of the Resurrection on one side and the music and texts for CHRIST IS RISEN in Greek and English on the other side. They are available for purchase in packets of 25, at a cost of $10.00 per packet plus shipping and handling.
Click here for other CHRIST IS RISEN Resources - including Audio Recordings and Harmonized Music »
---
The National Forum mourns the passing of founding member Anna Gallos

It is with great sadness that I share the news that our beloved Presbytera Anna Gallos passed away peacefully at her home on Wednesday evening, February 4, 2015. Anna touched the lives of many of us and has left a legacy to be treasured for generations to come. Presbytera Anna was a pioneer and a visionary in the music ministry of our Archdiocese. She was instrumental in the formation of the National Forum of Greek Orthodox Church Musicians, and a founder of several church music federations.
For more information please visit www.ruckfuneralhomes.com
Maria Keritsis
---
National Tribute in Memory of Anna Gallos
On Tuesday, February 10, church musicians, family and friends gathered to bid an emotional farewell to one of our composers, a visionary and one of the founders of the National Forum and several Metropolis Church Music Federations. +Presbytera Anna Gallos dedicated her life to service in the church and its music ministry and leaves behind a rich legacy.
Many church musicians who could not be in attendance have suggested that on the Sunday of her 40 day memorial that her music be performed in the parishes throughout the country as a tribute to her memory and the rich musical legacy she leaves behind. Imagine choirs singing with "one mind and one heart" one of her many arrangements of the Divine Liturgy or a hymn arranged by her throughout the country on the same day! The Memorial Service is scheduled for Sunday, March 22.
It would also be a fitting tribute to have your priest acknowledge this national tribute in your parishes' Sunday bulletin with a sentence that would state that church musicians throughout the country are honoring the memory of our beloved Presbytera Anna Gallos of blessed memory by chanting her music during the Divine Liturgy.
---

The 2015 Liturgical Guidebook can now be ordered through the Orthodox Marketplace!
Click here for the press release and ordering instructions
Order your copy online directly from the Archdiocese's Orthodox Market Place http://www.orthodoxmarketplace.com/liturgical-music/2015-liturgical-guide-book.html
You can also order the Guidebook through the mail. 2015 Liturgical Guidebook Mail-in Order Form
---
National Church Music Sunday Resources
Click here for more information »
---
* SAVE THE DATE *
2015 National Forum Annual Meeting
Indianapolis, IN - July 9-11, 2015
Chairman's Annual Report for 2014 »
---
CHRIST IS RISEN Resources
Christ Is Risen English Translation Resources and Recordings »
---
Useful Downloads

Announcements
Recent Page Updates
Publications List
03/03/2015 - The listing has been updated »
Home
03/02/2015 - Christ is Risen Resources added »
Metropolis Church Music Federations
03/02/2015 - Updated 2015 Metropolis Conference Dates and Information »
The National Forum
02/08/2015 - Annual Meeting Information Added »
Latest Updates RSS
Recent Newsletters
Neumes & Notes
The YouthMusic Connection