What is the National Forum?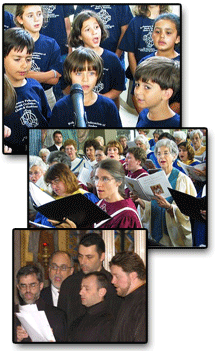 The National Forum of Greek Orthodox Church Musicians is the Archdiocesan ministry responsible for liturgical music activities and the development, support, and recognition of church musicians. Chartered in 1976 as an official auxiliary of the Greek Orthodox Archdiocese of America, the National Forum serves as the liaison among local church musicians, metropolis church music federations, and the Archdiocese. It also serves as the gathering place for church musicians to discuss issues related to liturgical music and to formulate needed responses.


The National Forum has four major areas of focus:
What's New!
Common English Translation of "Christ Is Risen" as approved by the Holy Eparchial Synod The music and formats have been revised slightly for 2013.
Order beautiful, laminated Hymn Cards for the pews of your church with the new translation of "Christ Is Risen" in both Greek and English and a full-color icon of the Resurrection »
Download the sheet music, audio files and tips for implementation »
---
National Forum Council of Presidents Convene at Hellenic College in Brookline, MA - April 11-13, 2013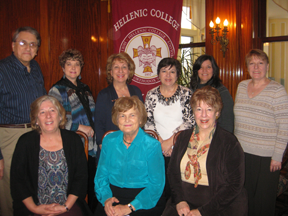 Back row: Ted Niforos, Pam Cramer, Anna Dounelis, Drucie Papafil, Lucy Papadakes, Liz Levy.
Front row: Heidi Mason, Maria Keritsis, Vicki Pappas.
---
37th Annual Meeting of the National Forum to be held July 11-13, 2013 in Charlotte, NC!
Click here for more information »
---
2013 Liturgical Guidebook is Available Now!
The 2013 Liturgical Guidebook can be ordered online directly from the Archdiocese's Orthodox Market Place www.orthodoxmarketplace.com.
Click here for ordering instructions »
---
We mourn the falling asleep of Dr. George T. Demos, 2nd National Chairman of the National Forum
Reflection by Theodore Bogdanos »
---
Frank Desby Byzantine Chant Training Manual and Works of John Velon Now Available!
The 345 page manual is a comprehensive guide that takes the learner through the basics of the notational, rhythmic, and interval signs of Post-Byzantine ecclesiastical music. Also available with an instructional CD.
Click here for more information
Click here to read Frank Desby's Biography
The project undertaken by the National Forum to preserve the collected works of John C. Velon has been completed! The collection contains more than 10,000 hymns. To access and order from the Collection, visit the Velon Family's website: www.stgeorgepublishing.org.
Click here for the press release
Useful Downloads

Announcements
Recent Page Updates
Annual Meetings
05/15/2013 - National Forum 2013 Annual Meeting Registration Information Updated! »
Christ Is Risen
05/14/2013 - Additional "Christ Is Risen" resources added »
Home
04/23/2013 - Home Page Updates »
MUSICA Issues
04/23/2013 - Page updated »
Latest Updates RSS
Recent Newsletters
Neumes & Notes
The YouthMusic Connection