What is the National Forum?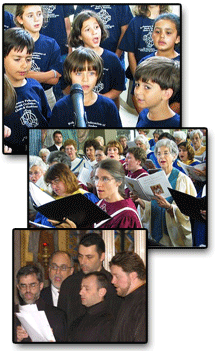 The National Forum of Greek Orthodox Church Musicians is the Archdiocesan ministry responsible for liturgical music activities and the development, support, and recognition of church musicians. Chartered in 1976 as an official auxiliary of the Greek Orthodox Archdiocese of America, the National Forum serves as the liaison among local church musicians, metropolis church music federations, and the Archdiocese. It also serves as the gathering place for church musicians to discuss issues related to liturgical music and to formulate needed responses.


The National Forum has four major areas of focus:
What's New!
NATIONAL CHURCH MUSIC SUNDAY was celebrated on Sunday, October 6, 2013!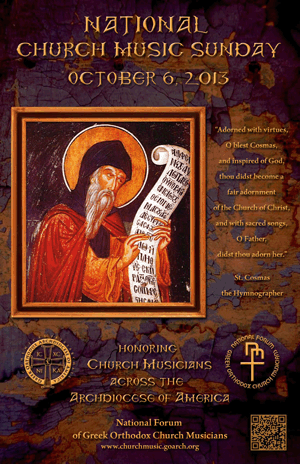 Read about St. Cosmas the Hymnographer, the featured hymnographer saint on this year's National Church Music Sunday Poster »
3 Choir Directors receive the Archbishop's Years of Service Award
---
2014 National Forum Annual Meeting to be held in conjunction with the 42nd Biennial Clergy-Laity Congress in Philadelphia, PA - July 6-10, 2014
2013 Annual Report presented by National Forum National Chairman Maria Keritsis in Charlotte, NC »
---
2014 Liturgical Guidebook will be Available by January 1, 2014!
The 2014 Liturgical Guidebook will once again to be ordered online directly from the Archdiocese's Orthodox Market Place www.orthodoxmarketplace.com.
---
Useful Downloads

Announcements
Recent Page Updates
The National Forum
11/26/2013 - Annual Meeting Information Added »
Metropolis Church Music Federations
11/26/2013 - Updated 2013 Conference Dates and Information »
Years of Service Award
11/26/2013 - 2013 Recipients Added »
Publications List
11/26/2013 - The listing has been updated »
Latest Updates RSS
Recent Newsletters
Neumes & Notes
The YouthMusic Connection